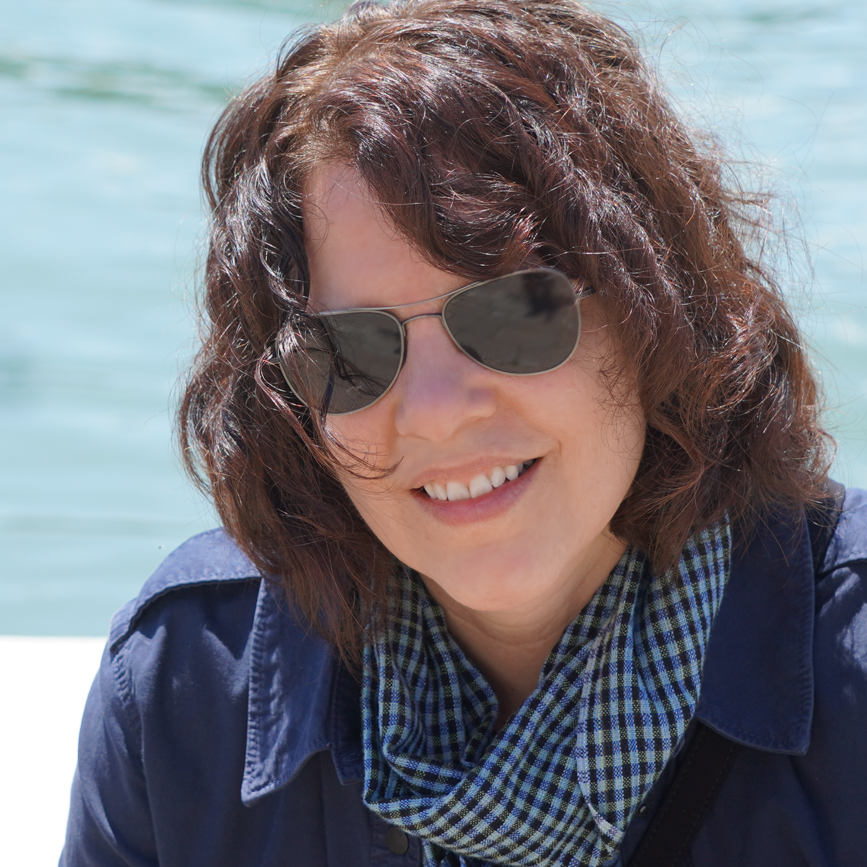 Triandafellos believes art is a conduit for transformation, inspiration and the expression of beauty. Her work is conceptually wide-ranging and project-based triggered by life's everyday experiences and experiments: the emotional/psychological impact of patterns, colors, shapes; capturing outstanding moments; coincidence and play;investigation of human nature;
and core principles as explained by science, math, and psychology. 
As an early pioneer of digital art and as a visual designer, she uses digital drawing tools and photography as the core of her practice. Digital is the medium choice for its ability to infinitely mutate, iterate, scale, and be output to various materials. Unlike any other medium, it allows the artist the ultimate control during both creation and the production of multiples. In addition, digital minimizes production time so the artist can focus on concept as opposed to execution. 
An inherent characteristic of digital that it is perceived as "real" - specifically when it starts as digital photograph - when in reality, it can be converted into something completely unrecognizable. That transformation process is magical, and the result is a new perception.
The expectation of the viewer's reaction with the art is that they gain an insight or connect in some way to the art. Be it a momentary "vacation," a mild version of a psychedelic experience, triggering of a memory, or an insight. 
With a practice strongly influenced by Mail Art, she follows mail art principles: an emphasis on community and connections, a belief that everyone can create and the value of play. Her Master's work at NYU centered on the documentation of a year-long correspondence with the "father" of Mail Art, Ray Johnson and the history of the genre. The work is also inspired by the vibrant colors of Pop Art, the patterns of Fractal Geometry and the simplicity of Minimalism.
Works originate as photos with the subject matter of architecture and other cityscapes, nature, and objects. These source images share a complexity of shapes, patterns and or textures. The photo serves as a template for a digital drawing mapped to the image. That image serves as the "DNA kernel" of the piece and is repeated and layered to generate an abstract scape.
Ultimately, Triandafellos drives us toward a vision of a utopian future by abstractly demonstrating with the simple shapes and colors, that all life is based on the same material: matter which is transformed using different formulas to create everything on earth. 
Triandafellos' art is typically expressed in the digital medium and distinguished by strong use of color, a sense of fun and energy. As with her work in Mail Art and with Ray Johnson, she believes the audience is integral to the work and prefers exhibiting in public spaces as opposed to the gallery.
Her work has been shown in galleries,

 

and art fairs: Frieze Art Fair, Grey Art Gallery, Greenpoint Gallery, and is in the Permanent collection at the MOMA library and The College of New Jersey. And in public spaces including New York's World Financial Center, the digital façade of the NASDAQ building in Times Square, the lobby of the Hilton Hotel in Times Square, Stonewall House (residential building), and multiple night clubs.

​​​​​​​

She is a graduate of the Hartford Art School and NYU's Gallatin College where she studied Mail Art and responded to all liberal arts classes with an artwork to express her knowledge of the topic, rather than taking an exam or writing a paper.